Carefully, delicately, she caught the end of the paper with her thumbnail and withdrew it slowly from the shaft. It looked like a miniature parchment, tightly rolled into a tub. She laid the key in her lap and held the parchment up to the lamp, unrolling the crisp, brittle slip one millimeter at a time. It was brown and stained, barely as long as her thumb. On it, in a watery ink barely legible in the flickering light, were written the words Deliverance Dane. – from The Physick Book of Deliverance Dane, page 50 –
Connie Goodwin, a PhD candidate in American History, finds herself and her dog Arlo unexpectedly spending the summer at her grandmother's crumbling old home near Salem, Massachusetts. Tasked by her mother to clean up the place and sell it, Connie instead discovers an old key with a message inside an ancient family Bible which compels her to search for answers to a 300 year old mystery. Connie's quest introduces her to a handsome steeplejack named Sam; and as Connie and Sam follow the clues to uncover the whereabouts of an old "recipe" book, Connie realizes that Salem's dark history (including the witch trials) are impacting her own life more than she knew.
The Physick Book of Deliverance Dane is Katherine Howe's debut novel. The narration is from several points of view and spans the time period from 1681 – 1715, as well as immersing the reader in Connie's present day life in 1991. Howe has done her homework on the rich history surrounding the Salem Witch trials. Period detail including the architecture and clothing from the late seventeenth century create a sense of place. Howe's own background as a graduate student in American and New England Studies, as well as her family history (which includes being a descendant of Elizabeth Proctor and Elizabeth Howe who were tried as witches in Salem) lends an authenticity to the novel.
The book is not without its faults. I found myself growing weary of the New England accent in Howe's dialogue. It started to feel like a chore to read these sections, and made me remember I was reading a story rather than being immersed in it. I also thought the early parts of the book dragged a bit. Howe's desire to provide all the details at times distracted from the flow of her story.
That said, Howe's strength is in creating character and when Connie discovers her previously unknown talents of healing, I believed it. Connie's strained relationship with her new-age mother Grace had me smiling and nodding. And as the novel progressed, I found myself eager to learn the secrets and uncover the mystery surrounding Connie's family.
For readers who love historical fiction and who are willing to allow their imaginations free reign to explore the magic of superstition, religion and witchcraft, The Physick Book of Deliverance Dane will appeal.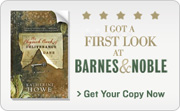 Please follow and like the blue thistle